Gift Certificates make wonderful surprises. Let the Rohn House & Farm create your "Certificate Packet" for that special Gift or Thank You. Just tell us what you need and your gift envelope will be off in the next post.
We use many of the website photos on the Room Certificate, with parchment inserts, showing the room photo and number of nights given. You will also find our current Brochure, Business Card and the Rohn House photo menu Note Card where you can add your own sentiments and best wishes.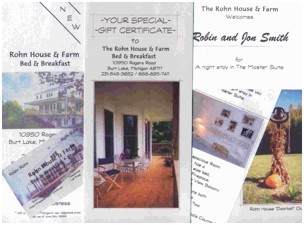 Our room Certificates are sold as room specific and priced accordingly. On those Holiday weekends where two days are required, a single night certificate can be used and applied toward the stay. Room Certificates are good for five years from date of issue.
Our Cash Certificates can add more diversity and creativity to your gift. Starting at $50.00, the Rohn House Certificate Scrip is welcome in the Textile Studio, Yarn Shop as well as the Bed & Breakfast. Rather than reading minds, let your friends choose their perfect color for an afghan, placemats, sweaters, hats and hand dyed yarns. Cash Certificates, like our room Certificates are good for five years, when using partical certificates, remaining balances stay under the original certificate number.