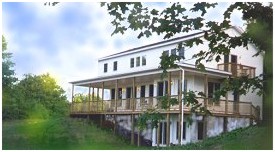 A-The Rohn House
The Rohn House is located in the middle of Michigan's beautiful Tip-Of-The-Mitt countryside, with 40 acres of our own activities. You can enjoy what's close at hand or go exploring no matter the season.
Bird and Animal watch from all directions. See the Marsh Hawks, Turkeys, Deer and the occasional Elk from the porch as they brunch on the garden.
If your thinking "within minutes" or "day- trips" Think world class Golf or Downhill Skiing at Nubs Nob and Boyne, Beach Sitting or Boating, Dune Climbing or Shopping, Shopping, Shopping . . .
At the Rohn House sip cool drinks between country Croquet matches on the lawn, lay in a hammock or just do nothing. In winter, Strap yourself into Snow Shoes or Cross Country Skis and go wondering on the Rohn House Trails. Go Canoeing or River Tubing on the near by Sturgeon River. Take a Dinner Sail Tour, visit Art Fairs, Craft Shows, Sunset Minature Golf . . .
Hike the paths and woods - Bike on the north's fabulous paved bike trail system or mountain bike across the North's groomed Snowmobile trails . . .
Think fine Dining or Fishing for your own dinner - It's all so close. Come enjoy our blue waters, our Inland Waterways and our Great and Inland Lakes. We have water everwhere! Water to walk by, walk in and yes, winter water to walk on.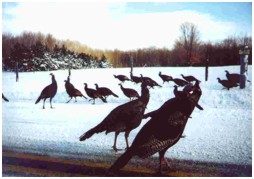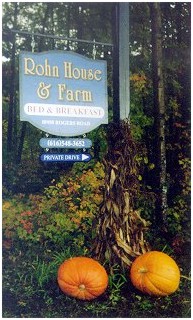 B-Turkey Crossing

C-Rohn House Driveway