ROHN HOUSE & FARM

Bed & Breakfast
Textile Design Studio - Yarn Shop
This beautiful field and forested spot was once part of the Old 1892 Rogers Farm. Sadly, most of those old efforts were lost to nature and time.
In 1997, after a twenty-nine year career of textiles and apparel in New York City, Robin Rohn returned home to build her dream.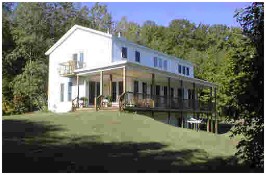 Rohn House takes advantage of all owned and borrowed views. The four Northern Michigan Seasons can be enjoyed in and from every room.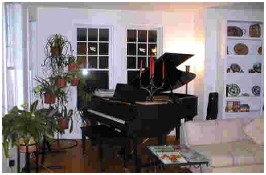 Walk the woods and grounds, enjoy the porches, sit in front of the fireplaces, play the grand piano, ask to see the latest textiles in process, or just lounge in bed.
This home was expressly designed for enjoying the quite, simple pleasures of living. Good food, good firends and nature at every turn.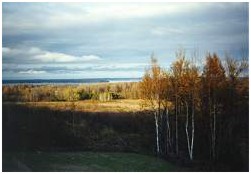 The young orchard can be seen just before turning into half-mile private driveway. It will take several years for "The Rohn Dream" of mini botanical gardens, groomed forest trails and sheep in the meadow to come to fruition.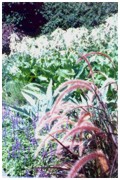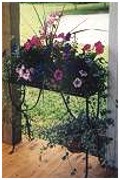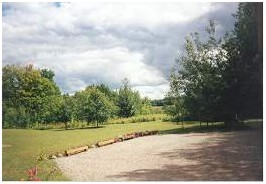 The three story Rohn House is Home, Design Studio and Bed & Breakfast. Choosing one of the highest points in Tuscarora Township, Robin designed her home to enjoy the peaceful beauty and spectacular views of the secluded sixty-three acreage.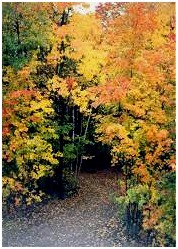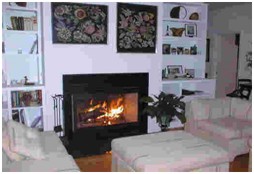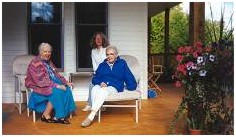 Believing the lake and forest picturescapes to be the finest on the Southwest side of Burt lake, plans for the land's resurgence and enhancement have begun.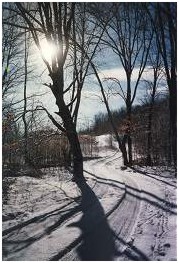 For now, enjoy the best of nature's own hand. Warm and inviting hospitality, homemade muffins, jams and jellies in the morning and the snacks in the evening.